Thanks to this device, customers will be able to independently verify their green pass for the access to the rooms, relieving the work of the staff!
Since the beginning of the Covid-19 pandemic, Microlog began to propose a range of special solutions to facilitate all types of activities in reopenings, allowing them to operate in total safety.
Today, the offer is enriched of a new device: the automatic green pass reader, useful to the entry of restaurants, access to public transport, or any rooms, to streamline the checking of green certificates.
Easily positioned thanks to a pratical stand, the device is equipped with a camera capable of framing and reading the QR Code in the certificates, and an informative LED screen that shows the actual validity, or invalidity, of the green pass framed.
How does the reader work?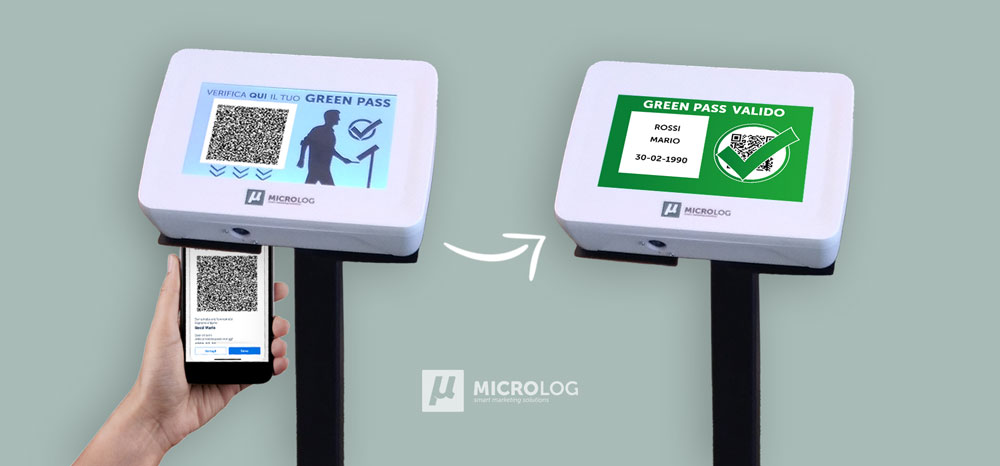 In autonomy, the customer who arrives in the proximity of the stand will only have to place the screen of his smartphone (with the green pass open) under the device, verify the correct framing of his QR code on the led screen, and check the validity feedback (green screen), thus having the green light to access. The whole operation takes just a few seconds!
It is also possible to remote the information received from the device without wiring, giving the possibility to an operator to verify the correct execution of the operations, without having to be in visibility of the reader.
Curious to see it live? You can come and discover it at our Mapic Italy exhibition, on September 14 and 15 at Superstudio Maxi Milano, Digital Gallery – Pod 10!